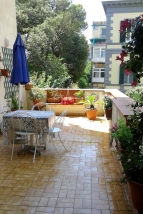 Apartment type : 3 rooms / Sleeps : 2 pers. / Floor area : 55 m2
Construction type : Traditional
Neighbourhood : San Ferdinando
Availability : Year-round


Send to a friend
The apartment is in San Ferdinando (more commonly referred to as Pizzofalcone). The neighbourhood's many palaces, such as Palazzo Serra di Cassano, seem to insulate the area from the city's noise. Nonetheless, you won't have far to go to find a bustling and lively atmosphere—just head to the alleys that lead to the Santa Lucia district.
Monte di Dio is conveniently located between the Chiaia neighbourhood and all its boutiques and Via Toledo, just minutes from the Royal Palace and Naples' opera.
If you are interested in exploring Naples' islands they are easy to get to as the port is only a short distance away.
The apartment
Monte di Dio is a quiet 4th-floor apartment (55 m²) with a balcony that overlooks the garden.
The living room (16 m² - west facing) gives out onto the balcony and is furnished with a double sofa-bed, a table and 4 chairs, and a corner cabinet.
The kitchen (7 m² - east facing) window looks out onto the yard. The kitchen is equipped with a fridge, 4 stove elements and an electric oven.
The window in the master bedroom (13 m² - north facing) also looks out onto the yard. There is a double bed, wardrobe and armchair in this bedroom.
The second bedroom (7 m² - north facing) has two single beds and a wardrobe (it is not a closed room as you have to cross this room to go to the master bedroom and there are no windows).
There is a washing machine in the laundry room (1.50 m² - east facing) and a window that overlooks the yard.
The bathroom (3 m²) has a bathtub with shower, sink, bidet, and toilet.
There is a lavatory (0.75 m²) with a sink and toilet near the kitchen.
The balcony (20 m² - northwest facing) overlooks the garden. There is a table, chairs, and a parasol set up on the balcony.
Sleeping details
1 double sofa-bed (160 x 180 cm)
1 double bed (160 x 190 cm)
2 single beds (80 x 185 cm)
Notes
The building's main entrance, the elevator (90 x 40 cm), and the staircase are all quite narrow.
The apartment is not all on one level (there are 4 steps between the entry and the living room, and another 4 between the entry and the hallway).
Elevator

YES

Narrow

Air conditioning

NO

Heating

YES

Central heating 6:30–9:30 a.m. and 6–10 p.m.

Fan

NO
Washing machine

YES

Gas stove

YES

Oven

YES

Cookware

YES

Dishwasher

NO

Freezer

YES

Electric stove top burners

NO

Microwave

NO

Refrigerator

YES
TV

YES

Radio

NO

Iron

YES

Internet

YES

Stereo/CD player

YES

Ironing board

YES

Phone

NO